Most established financial advisors are at the Technician level. The big challenge for these advisors is that they don't have a clear path forward. They are often stuck in the belief that it's their knowledge of investment management that will make them more successful. As a result, they compete on the basis of investment returns alone. Given the nearly complete commoditization of investment management today,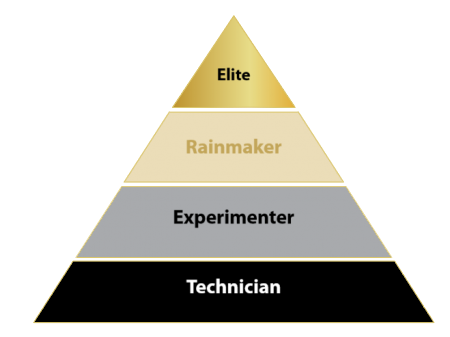 this is a very hard sell to prospective clients.
However, once Technicians understand that the key to becoming more successful is providing a world-class client experience, they become Experimenters. They begin to try different approaches to enhancing their client experience, and as a result they see their income and assets under management grow. At this point, Experimenters are publicly successful. However, they are often privately stressed because they have not yet landed on systematic processes for ensuring client satisfaction and loyalty.
Once Experimenters have the right processes in place, they can move to the Rainmaker stage. Here client referrals are the main driver of business growth. Advisors at this level usually feel very good about their progress. However, their referrals—and thus their business growth—tend not to be as systematic as they would like, and all too often, the referrals are not to prospective clients with higher levels of wealth.
And that brings us to the advisors at the Elite level, who consistently earn net incomes of at least $1 million each year. These advisors are able to live the lives they want and have their businesses support their most important goals for themselves, their loved ones and the causes they care about. The key to achieving elite status? It's usually a steady stream of referrals from centers of influence to clients who are more affluent than those the advisor currently works with.
No matter where you are now on the hierarchy, you want to move upward. The question is how.
It's a question of speed.
Do you want to take your time—likely many years—to make significant progress? Or do you want to achieve your most important goals faster than you ever thought possible?
CEG Worldwide's coaching puts you on the fast track.
Contact US
Mailing Address
CEG Worldwide, LLC
1954 Hayes Lane
San Martin, CA, 95046