In today's uncertain environment, financial advisors want programs that will deliver real results in terms of higher net income, additional assets under management, and greater client satisfaction and loyalty. And they want those results as soon as possible—not later.
CEG Worldwide's programs help advisors counter today's challenges by providing them with clear, actionable and proven strategies for growing their practices while serving their clients even better. Drawing on our decades of experience working directly with thousands of the nation's top financial advisors, as well as our extensive empirical research with tens of thousands of advisors, our programs deliver what advisors want right now.
Winning With Wealth Management
Our Winning With Wealth Management workshop is a comprehensive training program designed to elevate your advisors' capabilities in attracting, converting, and retaining affluent clients. The workshop employs a hands-on approach, featuring practical exercises, real-world examples, and actionable insights to achieve the following:
Understanding Wealth Management Needs: Equip your advisors with the skills to understand and cater to the unique financial needs of high-net-worth individuals and families.
Positioning as Trusted Experts: Help your advisors position themselves as trusted experts in wealth management, enabling them to better assist clients in achieving their financial goals.
Building Trust Through Experience: Teach your advisors how to build and maintain trust with high-net-worth clients by delivering a world-class client experience.
Conversion and Referrals: Enable your advisors to convert more prospects into clients and generate increased referrals through client satisfaction.
By investing in this workshop, you're empowering your advisors with cutting-edge tools and techniques and setting the stage for accelerated net organic growth in assets under management. This, in turn, propels your firm to new heights, making you a hero to your advisors.
Are you ready to unlock your advisors' full potential and drive your firm's success to the next level?
Pricing: $25,000 live workshop / $12,500 virtual workshop plus printing and shipping
LAUNCH
The fast track to moving upmarket
LAUNCH is a powerful one-day virtual retreat that brings together your top financial advisors—and those who aspire to the top—to focus on building hugely successful practices that attract and serve affluent clients well.
Financial advisors are driven and passionate about serving their clients well. But they're not content spending decades burning themselves out only to stumble upon success "someday" or "eventually." They are ready now.
Financials advisor might also be frustrated. They know if they just had the right resources and tools in hand, they'd be unstoppable.
That's what LAUNCH: The Fast Track to Moving Upmarket is all about: giving financial advisors the exact resources and tools they need to rapidly ascend the hierarchy of advisor success by building a simple, elegant wealth management practice that's indispensable to the right affluent clients.
Every hour has been carefully structured to propel you and your practice to the soaring heights of success as quickly as possible. Advisors will effectively cut out years of experimenting and jump right to what works.
LAUNCH takes place on a state-of the-art video conferencing platform made specifically for high-level events, complete with a concierge desk and more.
Whether financial advisors are just starting out or simply frustrated with where they are at the moment, look no further than LAUNCH. All they need are the proven tools and resources to get them to where they want to go without wasting precious time.
The best part? It won't be more work. It'll just be the right work. Before they know it, financial advisors will be joining the ranks of the elite—no matter what level of the hierarchy they are on right now.
Pricing: $40,000 plus printing and shipping – up to 5,000 attendees
Our coaching programs enable advisors to further accelerate their success by transitioning their practices to a highly refined wealth management model that clearly sets them apart from their competition while providing an unmatched client experience that leads to additional assets under management and introductions to qualified prospective clients. Through the use of in-depth web portals and extensive videos, these programs can reach hundreds or even thousands of your advisors.
CEG Worldwide partners with institutions to offer turnkey programs exclusively for their advisors. Discount pricing for a pre-determined number of participating advisors is typically available. A limited number of executives may participate free of charge to enable firm leadership to experience every aspect of the coaching program.
The Emerging Elite Advisor
This is a phenomenal time to be a financial advisor. In fact, given the great demand from the wealthy through this uncertain time, we believe that this is the absolute best time to be a financial advisor—if advisors know exactly what to do and how to implement effectively.
The Emerging Elite Advisor will help advisors realize their full potential as they move up the hierarchy of advisor success much faster and with less effort than they ever thought possible. Over six months, advisors will begin building a simple, elegant wealth management business that makes them indispensable to the right-fit affluent clients. By the end of the program, they will enjoy a significantly higher client conversion rate, a clear advantage in any competitive situation and many more qualified client referrals.
The program is a unique combination of practice management and technical training in group sessions, built by practicing advisors and refined by our knowledgeable experts and supported by your own professional coach. It will help financial advisors:
Build a proven offering that will attract the right-fit wealthy clients you want
Create and deliver the advice the wealthy are looking for today
Unlock referrals from clients and other professionals (accountants, attorneys and other experts)
All the knowledge in the world about building an elite advisory practice will do advisors little good if they do not execute. That's why The Emerging Elite Advisor includes numerous workshops and other interactive events, each one focused on execution. This regular interaction with the program's subject matter experts, their coach, some of the industry's leading advisors and peers in the program creates accountability and helps ensure that advisors remain on the fast track to the elite level.
The Elite Wealth Manager
Build a Simple and Elegant Wealth Management Practice
This 10-month coaching program equips advisors with the strategies and tools of the most successful advisors in our industry—those earning $1 million or more in net income each year—along with everything they need to implement them in their practices.
Advisors who take part in The Elite Wealth Manager build simple, elegant wealth management practices that serve their clients extremely well, make them indispensable to the right affluent clients and improve the quality of life for both themselves and their teams.
To ensure that advisors achieve the results they want faster than they ever thought possible, we provide a robust coaching experience unmatched in the industry.
Live sessions. Our three two-day sessions bring advisors together with their coaches, their elite advisor peers and CEG Worldwide senior principals. Through discussion, lectures and exercises, they master every key strategy of the business model used by today's elite advisors.
Professional coaching. Advisors' expert coaches are with them throughout the program, helping them chart their unique road maps, inspiring them to overcome obstacles and holding them accountable to achieve all that matters to them. Advisors will meet with their coaches monthly during one-hour, one-on-one phone calls.
The Elite Wealth Manager web portal. This comprehensive web site provides a library of more than 100 in-depth videos, step-by-step instructional content and dozens of downloadable tools. It is the go-to resource for advisors throughout the program.
Interactive implementation workshops. These hands-on, two-hour workshops reinforce key learning while delving deeper into crucial actions that drive early results.
Accountability partners. Advisors partner with others in their class to provide and receive accountability to help track goals, overcome barriers, identify opportunities and commit to the actions that will achieve the results they want.
Office hours. To provide the community advisors are looking for, every month we conduct office hours—highly interactive sessions facilitated by a CEG Worldwide principal for advisors to share their wins, explore their challenges and build connections that will last long after the program ends.
Accelerating Your Alliance. This two-hour virtual conference brings you together with your key centers of influence to focus on proven business development strategies that will substantially increase revenue for you and your strategic partners while providing exceptional value for your clients.
Interactive messaging. To provide for even greater community among advisors, along with direct support from CEG Worldwide, advisors receive access to our interactive voice messaging system. On a regular basis, they receive brief voice messages with success stories, tips and inspiration, and are able to quickly and easily interact with their coaches and other advisors in the Elite Wealth Manager community.
Weekly emails. Each week advisors receive a concise compendium of tips that keep them focused on the actions they should be taking in real time.
Access to CEG Worldwide principals. Each CEG Worldwide principal is a former top financial advisor or institution executive who understands the nuances and complexities of running a successful practice. Collectively, they have coached thousands of top financial advisors.
Capturing Tomorrow's Opportunities Today
In our extensive work with top financial advisors who consistently earn annual net incomes of more than $1 million, we've found that they use a clear framework to build simple, elegant practices that are indispensable to the right affluent clients. We call it the elite wealth manager framework.
When advisors structure their practice around the elite wealth manager framework, they too can build and amazing life of significance by serving fewer, wealthier clients extremely well. Advisors will find out exactly the extent to which they are implementing each accelerator of the elite wealth manager framework in their practice.
Advisors will also discover how to apply one of the nine accelerators to position themselves as the go-to advisor for the specific prospective clients you most want to attract and serve. By the end of the keynote, advisors will be able to provide a precise, succinct, and compelling description of the clients they serve, how they serve them and how they benefit. Cleary articulating a value promise will provide an easy first step for qualified prospective clients to explore working with you.
Pricing: $10,000 plus printing and shipping

Attracting the Affluent Entrepreneur
CEG Worldwide completed a study of a database with over 60 million households.  And what we found surprised us.
You see, about 33% of affluent investors with over $1 million of financial assets—are business owners.
And as you move up the "wealth ladder", the number of business owners skyrockets.  For instance, 3 out 4 highly affluent investors are entrepreneurs. And among the ultra-affluent, that number rises to 9 out of 10!
What's more, these wealthy business owners are desperate for your services.  On average, they're happy to hand over more assets…pay you higher fees…and even send you a steady stream of new introductions.
In this keynote, we show advisors how to break into this highly-lucrative niche market.
In this keynote, advisors will discover…
Seven key strategies to attract a steady stream of affluent entrepreneurs. Best-kept secrets of elite financial advisors revealed.
Magic words that make wealthy business owners view advisors as the go-to expert in their market. Works for any advisor, if they do this first.
What kind of business owners' advisors you work with? This simple one-page worksheet helps advisors find out—and focus their energy on the right clients.
How to turn the best clients into profitable strategic partners. Simply pick up the phone and ask this simple question. (Hint: nothing to do with referrals)
And much more…
Advisors can turn new affluent clients into strategic partners—and create a steady stream of new referrals.
And best of all, affluent business owners can help advisors build a wealth management practice that works—for them, their clients, and their family.
Pricing: $10,000 plus printing and shipping
Distinction on Demand
If your advisors are serving anyone and everyone trying to find their place in this industry, they've probably felt frustrated—like just another face in the crowd—more than a time or two.
Most advisors have a burning desire to make a meaningful difference in people's lives, but feel like they're chasing the wind, never reaching the next level of impact and income they know they could achieve.
It's not their fault. As advisors, we were taught plenty of technical skills but never how to focus on the opportunities that align with the difference we want to make in the world. We weren't shown how to go out and win. The good news is, it's easier than you think.
The key is distinction. By discovering first who they fundamentally are in this business—their true identity—they will realize very quickly whom they're meant to serve. This enables them to create a unique message that resonates deeply with those in the niche of their choosing.
And when advisors serve their target community better than anyone else ever could, they rise to preeminence in it and win more business, gain more assets under management and move rapidly upmarket.
This keynote will equip your advisors with everything they need to rise above the fog of anonymity and become the go-to advisor the wealthy eagerly seek out.
You'll discover exactly how to:
Unearth your true, authentic identity—and how doing so fuels your purpose and reveals whom you're meant to be a hero to
​Unlock your unique message and use it to effortlessly attract your right-fit affluent clients
​Break through the two ceilings that stop many advisors from reaching the top of the hierarchy of distinction (and find out where you currently stand in it)
​Employ the nine success strategies elite advisors use to secure preeminence in their target communities
Pricing: $20,000 plus printing and shipping
Have you ever wondered how some financial advisors can quickly jump from $50 million in assets under management to hundreds of millions—and then on up to a billion or more?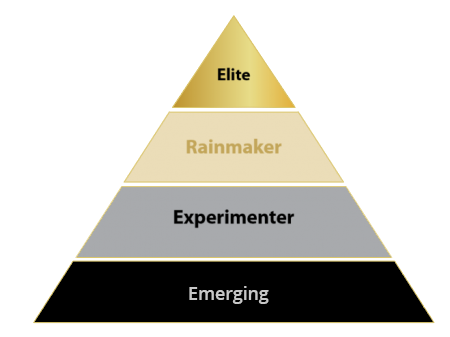 It's because they understand the hierarchy of advisor success. They know that it's not about working hard; instead, it's about using the right strategies that rapidly deliver the results they want—all while building trusted, long-term relationships with the right affluent clients.
No matter where you are in the hierarchy right now, you want to move upward. The question is this: How fast do you want to go?
Do you want to take your time—likely many years—to make significant progress? Or do you want to race up the hierarchy of advisor success and achieve your most important goals faster than you ever thought possible?
CEG Worldwide's coaching puts you on the fast track. Schedule a strategy session and get your road map for the success you want, as fast as you want it.