THE
ELITE ADVISOR REPORT
A Blog for Today's Top Financial Advisors
The Virtuous Cycle—The Key to Working with Affluent Clients – Episode 17
---
KEY TAKEAWAYS:
You must have a deep understanding of your clients to deliver high-level wealth planning.
Support from a professional network is extremely important to successfully serving the affluent.
Consider and work through the many and complex "What if" scenarios the affluent face.
---
To successfully and profitably serve affluent clients, you need a process that is comprehensive yet flexible.
We call that process the Virtuous Cycle—and it's the best approach we know to enable you to identify prospective solutions that address your affluent clients' key issues and maximize the probability of your clients achieving all that is important to them.
Here's a look at the six major components of the Virtuous Cycle—and how to use each effectively with your high-net-worth clients.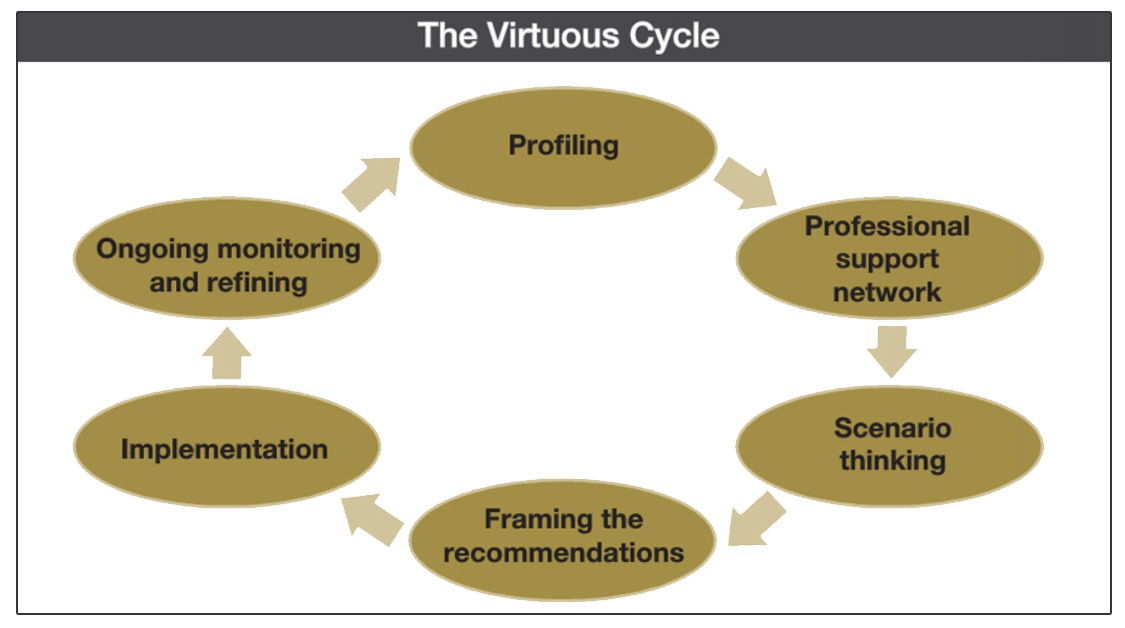 1. Profiling. Your ability to deliver high-level wealth planning is effectively negated if you don't have a deep understanding of your clients—and of the people involved in or affected by their planning decisions. That means going way beyond knowing their assets and liabilities to also discover their needs (including latent needs clients aren't even aware of), wants, attitudes, perceptions, preferences, goals, concerns, agendas and thought processes.
This comprehensive approach boils down to developing a seven-sector profile for each client that includes:
Values
Goals
Relationships
Financials
Advisors
Process
Interests
2. The professional support network. Armed with a deep and expansive understanding of a client's world, you can tap the resources of your professional support network .
The proven specialists in your professional network will fill in the gaps in your knowledge and skill set, helping to ensure you're always able to deliver state-of-the-art solutions to clients.
Your professional network should have four central characteristics:
Specialized expertise. The members of the network are some of the very best authorities in a particular area of interest to your clients.
Integrity. The highest ethical standards are indispensable in all aspects of elite wealth planning.
Professionalism. In every way, from responsiveness to inquiries to perpetual learning, the network participants embrace professionalism.
Personal chemistry. There's a strong level of rapport among and comfort with everyone in the network.
3. Scenario thinking. This is when you consider possible futures and help clients think through key "What if?" questions based on what you know about them. Some examples:
"What if you die early, while the children are young? Who will decide when they should have unrestricted access to your money?"
"What if you want to pay the lowest possible taxes on your investments without having to give up how the money is managed?"
"What if your kids from your first marriage cause problems for your current wife and the children you've had with her?"
There are countless other, similar questions, of course. Elite wealth management can address all these "What if?" questions.
4. Framing the recommendations. At this point in the process, you (perhaps along with your expert team) present the various scenarios and recommendations to the client. It's essential that you convey—in broad strokes or in excruciating detail, depending on each client's preference—how your recommendation can enable the client to achieve his or her agenda (as well as the risks involved in the approach). It's your responsibility to communicate the possibilities in a way that makes sense to the client.
Framing the recommendations is a well-developed skill among elite wealth planners. It demonstrates your attentiveness to the human element.
5. Implementation. This step should be straightforward because by this point in the process, the hurdles have been identified as well as the approaches to overcoming them. That said, getting a new solution in place can take significant work.
6. Ongoing monitoring and refining. Life is a movie—not a photograph—and ongoing monitoring usually comes in four forms:
Responding to innovations, such as when new legal strategies or financial products are developed and validated
Client-driven reconnecting, when something meaningful changes in a client's life (such as family relationships) that impacts the client's agenda
Advisor-driven reconnecting, when a change (in the tax law, for instance) prompts you to speak with clients about the implications for their current planning
Periodic reviews, when you meet with clients as well as other trusted advisors to ensure everything continues to move in the right direction
The upshot: When you have the right process in place, you can deliver an exceptional experience to affluent clients—and do it consistently over time. The Virtuous Cycle empowers you to do exactly that by helping you understand affluent clients deeply, identify the best solutions for them, communicate those solutions effectively, then implement and follow up accordingly.
All in all, it's a soup-to-nuts approach that will really resonate with the affluent.
---
PREFER AUDIO?
---
DOWNLOAD THE TRANSCRIPT
To download a transcript of this episode, click here.
---
What we do and who we are
Partnering with you to accelerate your success is what we do.
Helping you build an amazing life of significance is who we are.
What we believe
We believe you can build an amazing life of significance by serving fewer, wealthier clients extremely well. We also believe you can do it faster and with less effort than you ever thought possible.