THE
ELITE ADVISOR REPORT
A Blog for Today's Top Financial Advisors
The Power of Mastermind Groups for Financial Advisors – Episode 18
---
KEY TAKEAWAYS:
When like-minded financial advisors come together, great things can happen.
Mastermind groups enable advisors to connect with each other and create new business opportunities.
Sharing advice and education are two other key benefits of joining a mastermind group.
---
Financial advisors can learn a tremendous amount about achieving great professional and personal success from one group in particular: each other.
One of the best ways to share business-building information and resources today is through mastermind groups—formal meetings of driven, like-minded advisors and other entrepreneurs who all want to be more successful and help foster the success of their peers.
The mastermind concept goes back at least as far as Napoleon Hill, who in the 1920s defined the term as "a mind that is developed through the harmonious co-operation of two or more people who ally themselves for the purpose of accomplishing a given task."
Today, mastermind groups (sometimes called CEO groups) are designed and managed with the specific intent of enabling many business owners to reach their most important goals.
Mastermind groups have two main characteristics:
They have an executive director. This person is responsible for running all facets of the group. Sometimes, the persona of the executive director plays an important role in defining the group.
Entrepreneurs pay a fee to be members of the mastermind group. These fees are all over the place, ranging from less than $100 annually to more than $100,000 a year.
More financial advisors are leveraging these groups—driven by the growing realization that the isolation that can come with running a business can impede the business's success. For example, you may be surrounded by team members but have no one who is a true peer who deeply understands your challenges. Not only can mastermind groups be your antidote to this isolation, but they can also be your ticket to a much higher level of success.
With that in mind, here's a look at the big benefits that mastermind groups deliver.
THE MASTERMIND GROUP ADVANTAGE
Mastermind groups provide an environment in which you can:
Learn from the accumulated experience of fellow members (which might include other advisors, business owners from other industries or both) and group leaders.
Test your ideas and strategies for solving challenges and pursuing opportunities.
Build profitable relationships.
Deliver value to other group members.
Mastermind groups enable many advisors and other entrepreneurs to become more successful much faster than they would have had they not been mastermind group members. Approximately 98 percent of entrepreneur members of mastermind groups surveyed by AES Nation say that the experience is valuable or very or extremely valuable (see below).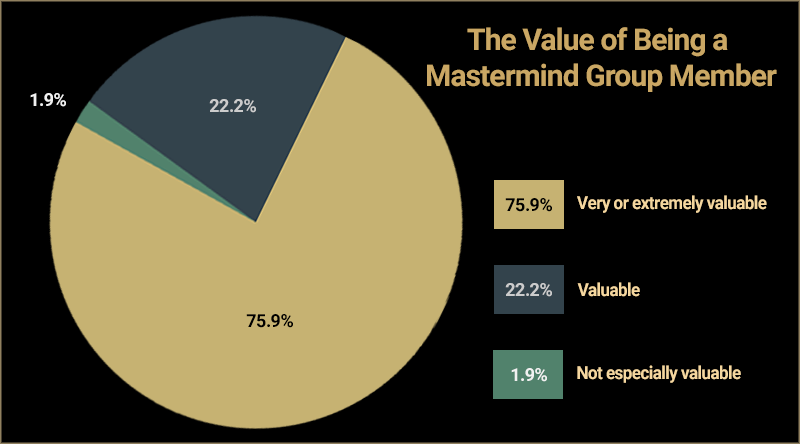 BIG BENEFITS OF MASTERMIND GROUPS
These groups provide a number of benefits to their members, as described below.
1. Opportunities. Mastermind groups can provide the opportunity to connect with other driven entrepreneurs like you in ways that more typical group events (such as forums or conferences, which often consist of some driven entrepreneurs along with a lot of people who just want to get out of the office for a day) can't. At mastermind groups, members commonly introduce other members to people who can help them achieve their goals. They also tend to find ways to work collaboratively with other group members to further each other's success.
Mastermind members rate the business opportunities created by connecting with other members of mastermind groups as the greatest benefit of these groups. Indeed, all said the opportunities they derive by connecting with other members are very or extremely valuable (see below). No one said those opportunities were not valuable.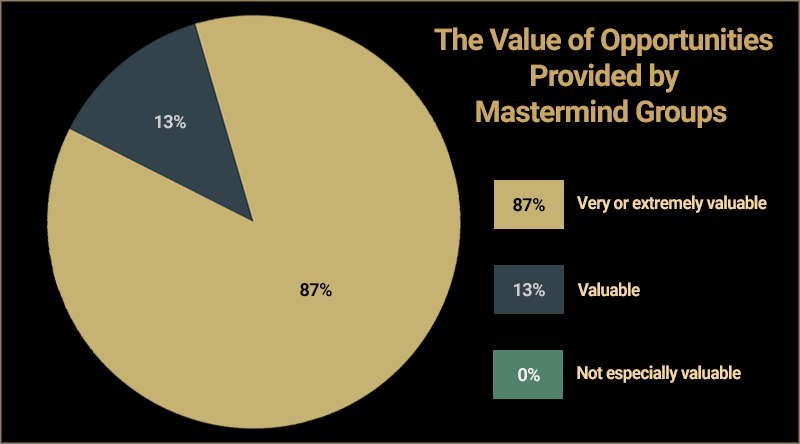 2. Advice. Drawing on real-world business experience coupled with an ability to be objective, mastermind members can play a significant role in helping each other come up with potent, viable solutions to their respective professional issues and concerns. Often this is a function of their ability to see things through fresh eyes and introduce diverse viewpoints.
All the entrepreneur members of mastermind groups find the experience-based insight and guidance of other entrepreneurs either valuable or very/extremely valuable (see below).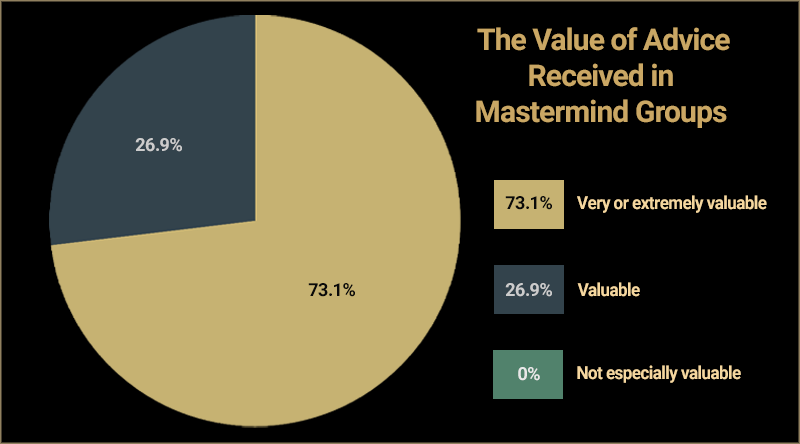 3. Education. As you become more business-savvy, you can use your knowledge and insights to make your company more successful. There are times when fellow members share their wisdom and experience with the mastermind group. Commonly, the other members of the group are experiencing problems and concerns similar to yours and dealing with similar possibilities and uncertainty.
Very often, an executive director will bring in outside experts to provide new understanding and to introduce new information and insights.
Nearly all the entrepreneur mastermind members—96.3%—find the educational nature of mastermind groups to be valuable or very or extremely valuable (see below).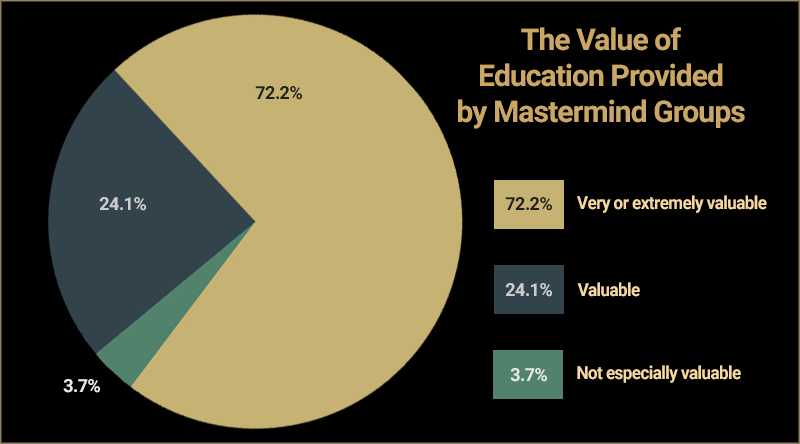 CONCLUSION
If you are driven to accomplish serious goals in your advisory practice and to take everything to the next level, a mastermind group may give you the road map you're looking for. That's because mastermind groups mirror and support the success of first-rate entrepreneurship.
Their substantial contributions in fostering the entrepreneurial spirit and facilitating greater achievements are making them increasingly essential to financial advisors who want to truly excel.
---
PREFER AUDIO?
DOWNLOAD THE TRANSCRIPT
To download a transcript of this episode, click here.
---
What we do and who we are
Partnering with you to accelerate your success is what we do.
Helping you build an amazing life of significance is who we are.
What we believe
We believe you can build an amazing life of significance by serving fewer, wealthier clients extremely well. We also believe you can do it faster and with less effort than you ever thought possible.