THE
ELITE ADVISOR REPORT
A Blog for Today's Top Financial Advisors
The Powerful Link Between Thought Leadership and Referrals from COIs – Episode 26
---
KEY TAKEAWAYS:
Advisors' best clients typically are referred by other professionals.
Advisors who are thought leaders are far more likely to get a steady stream of COI referrals.
Being a thought leader mitigates referral risk, positions you well, and creates economic glue between you and the COI.
One of the most important business growth strategies you can implement as a financial advisor is to establish yourself as a top advisor among centers of influence—attorneys, accountants and other high-end professionals who work with the affluent clients you also want to serve.
The reason: If COIs see you as highly credible and trustworthy, they can be a tremendous and consistent source of new prospective clients.
THE POWER OF BEING A THOUGHT LEADER
The first step is to demonstrate that you are a true thought leader who can address affluent clients' financial challenges better than your peers and competitors can.
There are two key traits of a true wealth management thought leader:
1. A thought leader is recognized as a leading financial authority. As a result, he or she is seen as the go-to expert who can address clients' financial challenges better than others can.
2. A thought leader is a wealth manager who significantly profits from being recognized as the go-to expert.
As we all know from the business world, being great (even being the best) isn't enough—not if your expertise is a secret. (Think about how many extraordinary technology companies have gone under because they failed to become household names.)
You need to be widely recognized among the people who will be key drivers of your business as a true expert—an authority in helping them address their financial challenges. And you need to parlay that expertise into profits.
Pro tip: Discover more about the importance of being a financial advisor thought leader here—and then find out how to become one here.
THE IMPORTANCE OF COIS TO YOUR GROWTH
You can look for new clients from many sources. But if you want to move upmarket and start serving wealthier clients than you currently do, it really makes sense to court centers of influence—other professionals (attorneys, accountants, business consultants, etc.) who are already working with those clients.
Consider the evidence: 70.8 percent of advisors we surveyed said that COIs brought them their best new clients—while existing client referrals were responsible for just 18.9 percent of advisors' best new clients (see Exhibit 1).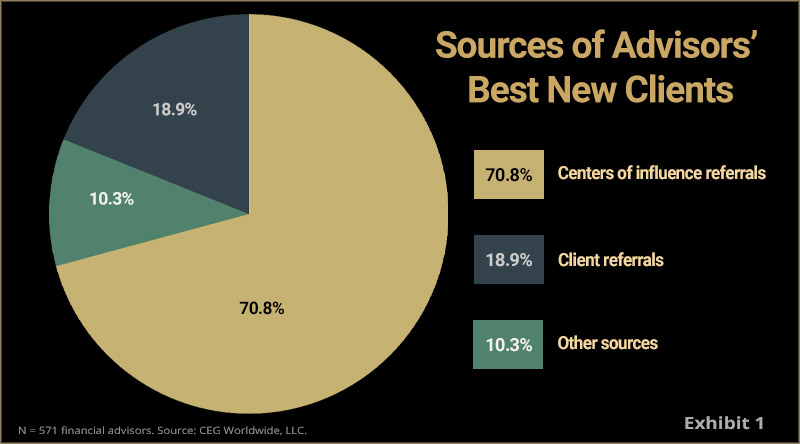 One reason: Existing clients tend to refer laterally or downward—bringing in prospective clients who have about the same level of wealth as they do (or less). COIs, in contrast, are more likely to work with clients who are wealthier than your existing client base.
Pro tip: Discover how to form profitable strategic partnerships with COIs here.
PUT THEM TOGETHER
Now let's look at the value of your thought leadership position to COIs.
Thought leadership prompts COIs to referral their wealthy clients to you—for three primary reasons:
It can mitigate COIs' referral risk.
It can very effectively position you with their wealthy clients.
It is one of the most powerful forms of economic glue. It bonds you to the centers of influence and motivates them to direct their wealthy clients to you.
1. Mitigating referral risk. In many client situations, there is considerable risk to accountants and attorneys in making a referral to a financial advisor. Very simply, if the financial advisor messes things up, it can be very bad for the COIs' relationships with their affluent clients, and even deleterious to their practices.
When things go badly on your side, the COI's credibility and judgment are called into question. As professional services are all about credibility and judgment, the center of influence can come out a very big loser.
But making an introduction to a financial advisor who is a thought leader dramatically mitigates that risk. It enables the center of influence to validate your expertise by pointing to your stature and standing as a thought leader. And the COI can use your thought leadership content to help demonstrate your expertise.
2. Positioning you effectively. Positioning is about how potential clients view you and how you might be different from other financial advisors. When COIs can show their wealthy clients your thought leadership content and almost effortlessly connect your expertise to the clients' specific needs, you can gain a powerful position that would be very difficult to achieve any other way. In short, your thought leadership content helps COIs position you as the expert the wealthy want.
3. Creating economic glue. For centers of influence to refer their wealthy clients to you, there has to be substantial benefit for the wealthy clients. In addition, there nearly always has to be substantial benefit for the centers of influence. Before the great majority of COIs will introduce you to their wealthy clients, you will have to show how you can help the COI become more successful.
There needs to be some form of what we call "economic glue" between you and your centers of influence—something that binds you together monetarily. Without question, one of the very best forms of economic glue is providing centers of influence with powerful thought leadership content and guidance on how to leverage the material so they can become thought leaders themselves—and can make their own practices eminently more successful.
When done well, helping your centers of influence become thought leaders and improve their own outcomes will deeply motivate them to proactively identify their qualified wealthy clients, introduce those clients to you and then lobby the clients on your behalf.
MAKE IT HAPPEN
Thought leadership can be the cornerstone of astounding business development—especially if you combine your thought leadership efforts with a focus on building relationships with COIs.
Ultimately, it's much easier for COIs to refer you to their high-net-worth clients when you are a thought leader. And the easier you make it for them to refer you, the more introductions to wealthy clients you will likely receive. When you, in turn, help your centers of influence become thought leaders themselves, you can create a pipeline of new wealthy clients.
---
PREFER AUDIO?
DOWNLOAD THE TRANSCRIPT
To download a transcript of this episode, click here.
---
What we do and who we are
Partnering with you to accelerate your success is what we do.
Helping you build an amazing life of significance is who we are.
What we believe
We believe you can build an amazing life of significance by serving fewer, wealthier clients extremely well. We also believe you can do it faster and with less effort than you ever thought possible.