THE
ELITE ADVISOR REPORT
A Blog for Today's Top Financial Advisors
Form Profitable Strategic Partnerships—A KEY GROWTH DRIVER – Episode 22
---
KEY TAKEAWAYS:
A full 70 percent of advisors said that attorneys, accountants and other COIs brought them their best new clients.
The key to success is to create economic glue that motivates COIs to refer clients your way.
There's a proven, six-step process for building profitable advisor-COI relationships.
Want to move upmarket and serve clients with more wealth than your existing client base? One of the most powerful steps you can take is to form strategic alliances with other professionals.
Profitable strategic alliances are a hallmark of elite financial advisors earning at least $1 million a year.
I realize you probably have heard about the importance of strategic partnerships before. But do you know how to actually create partnerships that channel a steady stream of new affluent business your way?
The fact is, lots of advisors recognize that they should build strong referral relationships with attorneys, accountants and other professional centers of influence (COIs). But they often stumble when they attempt to build those partnerships—and end up getting little to no new business despite their efforts.
Here's how to change that and make strong strategic partnerships a reality in your business.
THE COI OPPORTUNITY
Do you want to move upmarket? Congratulations—you're in good company. A full 77.1 percent of successful financial advisors we surveyed told us they want to work with more and wealthier clients (see Exhibit 1).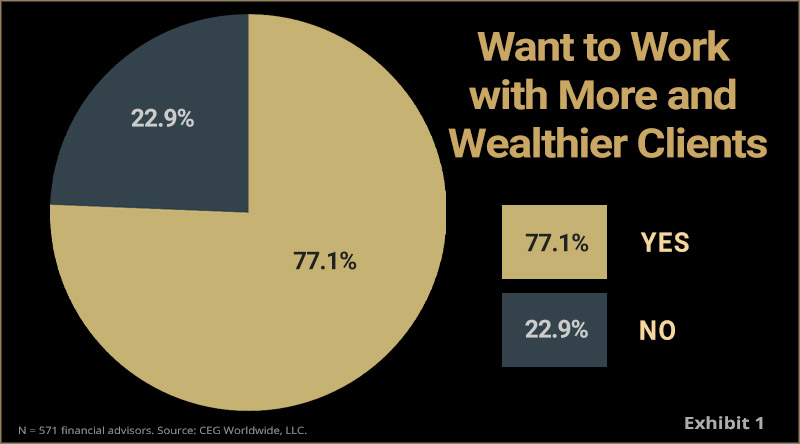 So where should you look to find and attract those clients? If you're like most financial advisors, you look to your current clients. We found that 75.5 percent of advisors say they get most of their new clients from client referrals. In stark contrast, just 18 percent said COIs were the source of most referrals.
The bad news: That approach may be holding you back from your goal of moving upmarket. When we asked advisors where their best clients came from, the answers were flipped: 70.8 percent of advisors said that COIs brought them their best new clients—while existing client referrals were responsible for just 18.9 percent of advisors' best new clients (see Exhibit 2).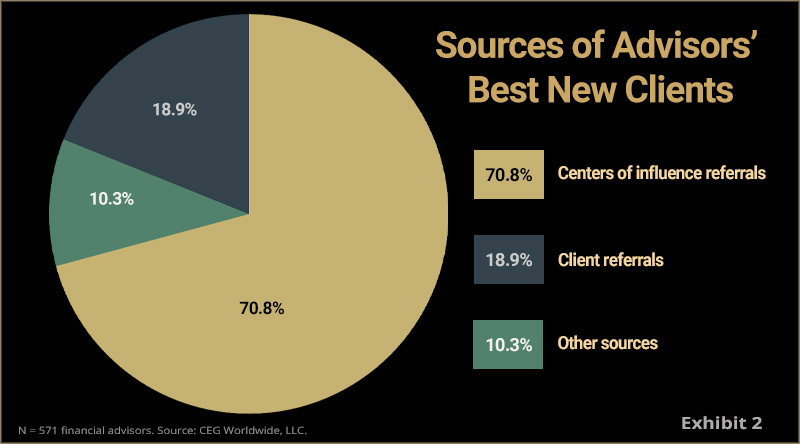 Frankly, I'm not surprised. Existing clients tend to refer laterally or downward—bringing in prospective clients who have about the same level of wealth as they do (or less).
A partner, not a contact
The upshot: If you want wealthier clients, your best source is probably COIs—not your current clients. Of course, you probably know that. Most advisors (88.1 percent) told us they know they have to increase their proficiency at getting referrals from COIs.
But if you're like many of them, you don't know how to do it. You've probably had numerous lunch meetings with attorneys and accountants and nothing ever came of them. You may have even sent your clients their way, but received nothing in return.
The key to success with COIs—and getting them to send you their clients regularly—is to make them your partners, not just your business contacts. Exhibit 3 reveals the key differences between those two types of COI relationships.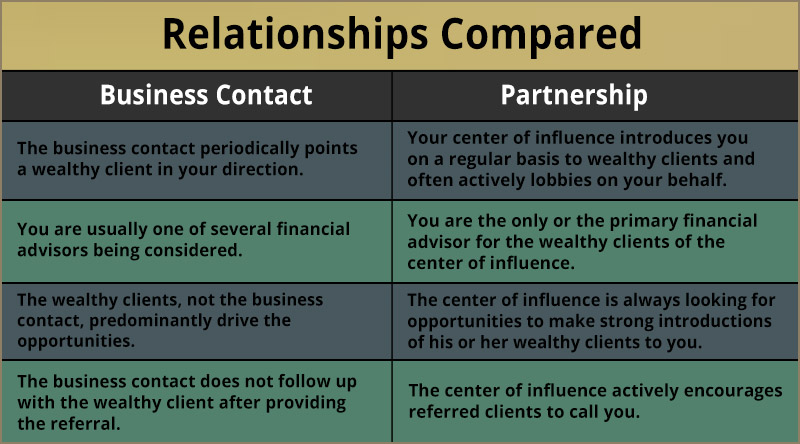 Make it happen
Why would a COI do all those things in the partner column? The reason is the law of reciprocity. When you give tremendous value to the COIs, they will want to reward you. That value should come in the form of thought leadership—content that reveals best business practices and targeted business development strategies. That will motivate them to introduce you to their best, wealthiest clients.
We recommend a proven process that leverages high-quality thought leadership content to build profitable partnerships with centers of influence. It consists of six steps:
1. Identify potential partners. Connect with the professionals who have the highest potential to send wealthy clients your way. These are most typically attorneys and accountants who serve wealthy clients and who are very motivated to become more professionally successful.
2. Conduct discovery. To choose the right partners, you need to extensively learn about their practices—including their business model, goals and obstacles.
3. Secure the commitment. Based on your understanding of a prospective center of influence, you decide whether he or she would likely make a good partner and whether you want to commit to the partnership.
4. Create the agreement. Be sure you and your partner have a clear understanding of what to expect from working together. The agreement in this context is likely not a legal contract but a well-articulated understanding of each party's roles and responsibilities.
5. Implement the thought leadership solution. Provide high-quality thought leadership content (and guidance in using it) to help your partner become more successful—and receive introductions to wealthy clients in return.
6. Track results. You and your partner will quantify the value you deliver to one another each month—and refine ways to deliver even more.
If you want a simple and elegant business serving wealthier clients, and to create a life of significance for yourself, working with strategic partners is a vital step.
---
PREFER AUDIO?
DOWNLOAD THE TRANSCRIPT
To download a transcript of this episode, click here.
---
What we do and who we are
Partnering with you to accelerate your success is what we do.
Helping you build an amazing life of significance is who we are.
What we believe
We believe you can build an amazing life of significance by serving fewer, wealthier clients extremely well. We also believe you can do it faster and with less effort than you ever thought possible.