THE
ELITE ADVISOR REPORT
A Blog for Today's Top Financial Advisors
Being Successful on Purpose–A KEY GROWTH STRATEGY – Episode 2
---
Key Takeaways:
You must clarify your purpose as a financial advisor.
Define your vision and delineate your goals in terms of key metrics.
Focus your activities on the actions that truly matter.
---
In my 30+ years working with financial advisors and financial institutions, I have yet to meet a financial advisor who doesn't want to be successful.
But success means different things to different advisors.
That means it's very important for each of you to be crystal clear on where you are today, where you want to be in the future and how you intend to get there.
If you really want to achieve success as you define it, you have to act to be successful on purpose. That means being deliberate—not stumbling around in the dark hoping you will bump into success. Advisors who hope they will find the keys to success almost always find that they've wasted a lot of time, energy and money.
In contrast, being successful on purpose actually allows you to accelerate your speed on the pathway to the results you want. You end up achieving success on your terms faster than you would otherwise—saving time, money and anxiety along the way.
Sounds pretty good, right? Here's how to start your journey to success on purpose.
Three steps to purpose-driven success
If you had to build from scratch today the practice that would most likely put your practice out of business, what would you do differently and better?
Our research shows that there are four levels of advisor success (see the chart below). Even if you don't aim for the elite ad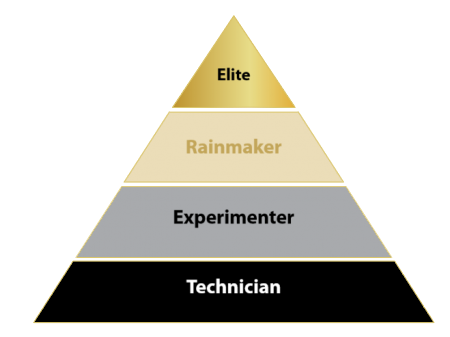 visor level, you want to incorporate some of their best practices so you can increase your success from where you are today—and have the life you want.
If you are already elite, you want to continue your journey.
This requires you to take three key action steps:
1. Clarify your purpose. Ask yourself these key questions to help you gain clarity about your purpose as a financial advisor:
Why are you in this business?
What do you want to accomplish with your business?
What is important to you about your business success?
The most common response from financial advisors to all three questions is "to make enough money to have the quality of life that my family and I want." But that only scratches the surface. Delving deeper into the "why" behind what you do—the larger purpose that drives you and empowers you to overcome the inevitable obstacles you face—will sharpen your clarity of purpose and draw you confidently forward as you build the practice you have always wanted.
2. Define your vision. You need to set clear, quantifiable business goals to help you gauge your progress and keep yourself accountable to your higher vision. Clear goals also help stop you from being reactive to every situation you encounter and can prevent you from chasing the "shiny objects" that look like opportunities—but that are really just distractions from the core goals that are most meaningful to you.Delineate your goals in each of these three areas for both 12-month and three-year time frames:
Assets under management
Number of affluent households (ones that have at least $1 million AUM with you)
Net new ideal clients—how many do you want each year?
Personal annual net income
Number of days or weeks off per year—because we're in business not just for more biz, but to build a great quality of life for ourselves and the people we care about
You can see in the hierarchy chart above what many of these factors look like for advisors at the four different levels of success.
As you quantify these goals, think big. Incremental thinking will result in incremental growth. Challenge yourself to redefine progress completely and to set true breakthrough goals.
3. Focus your activities. Just setting a breakthrough goal does not mean that you will actually perform at the level required to achieve it. Turning that possibility into reality takes commitment and an ability to stay strictly focused on the activities that will enable you to reach your goal. Stay sharply focused on the precise activities that will bring you great success in your business.
However, this level of focus and purpose is rare. The chart below illustrates the four different ways that leaders and entrepreneurs approach their businesses.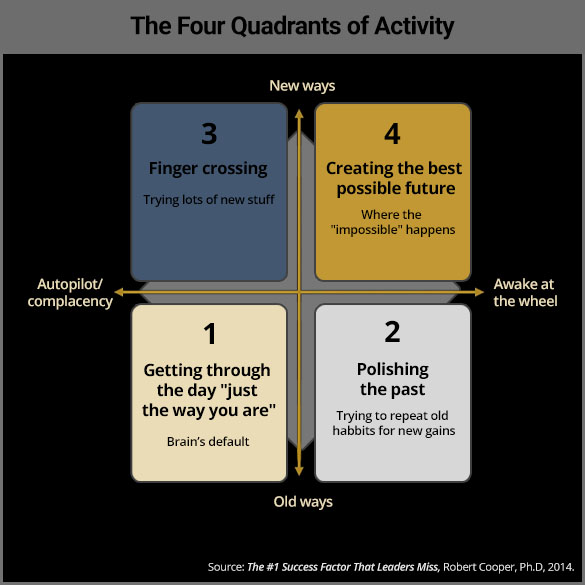 Quadrant 1 is where many financial advisors are. They get through each day doing the same things over and over again. They have become complacent—and given the amount of competition for clients these days, that complacency could lead to a big fall.
Quadrant 2 is where many reasonably successful advisors get stuck. They work deliberately at doing the same things over and over again. They may do well, but they often feel they're "on the treadmill," wondering if there's a better way.
In Quadrant 3, financial advisors are willing to try new things, but they do so haphazardly without a real plan in place for making new strategies impactful. They tinker with new approaches, essentially—which generates uninspiring results.
In Quadrant 4, financial advisors deliberately take specific, coordinated actions that reflect their visions. This is where true breakthroughs happen on the way to their best possible future.
Conclusion
The upshot: Don't operate your financial advisory business under the assumption that success will find you, or that you can fumble around and find it. Sure, that could happen—but it's more likely that your business will stall and you'll end up burned out.
Instead, take specific steps that are designed to help you deliberately achieve both the type of success and the level of success that are most important to you and the people you care about.
Take Action
Accelerate your pathway to elite advisor status— Schedule your complimentary Strategy Session – Best Year Ever Consultation call to get on the fast track to even more success.
Download the Transcript
To download a transcript of this episode, click here.
Prefer Audio?